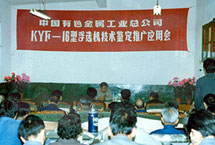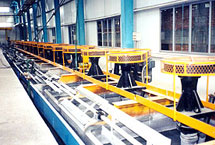 (1)KYF II Agitated Aeration Floatation Cells
Our KYF II series Mechanical Agitation Aeration Floatation Machines are suitable for sorting nonferrous metals, ferrous metals and nonmetallic minerals. Compared to the other types of oversea and domestic floatation machines, the impeller and rotor system has more reasonable and novel design, with such features as simple construction, ease of maintenance, low power consumption and high separation. The economical benefits are notable, compared with other type of floatation machines, the copper recovery rate increase by 1.22%, with 43.85% power saving, life of wearable parts is prolonged three folds, and performance exceeds the advanced OK type of floatation machines from oversea.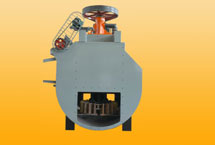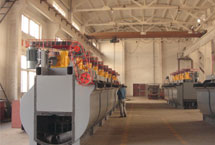 KFYII-16 KYFII
(2) XCF II Floatation Cells
Apart from possessing the features of KYF model of floatation machines, the XCF II series Floatation Machine also has high slurry adsorption capability, can be installed horizontally, and no requirement for froth pump.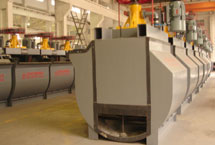 XCFII
(3)Model SF series Floatation Cells
The SF series Floatation machine uses rear inclined double blade impeller, and equipped with draft tube and false bottom. It features logical construction, good performance, and ability for self suction of air and input slurry, horizontal installation and no froth pump requirement. Compared to Model 6A, the power consumption is 11.6% lower, copper and lead recovery rates are respectively1.25% and 1.38% higher, it also has notably high recovery rate for silver.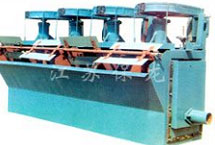 SF

(4) JJF Series Mechanical Agitated Floatation Cell
The JJF Series of mechanical agitated floatation cells are categorized as self aerating mechanical agitated type. The features of this model of equipment include: small diameter impeller, significant height, shallow immersion depth, ability to self aspirate adequate quantity of air, installation of draft tube and false bottom in the cell, enabling large circulation of mineral pulp at the bottom, stable aspirated air quantity, stable float layer, excellent circulation of pulp, high separation efficiency, low power consumption, low wear and ease of maintenance. This model of machine is suitable for separation of nonferrous metals ferrous metals and nonmetallic minerals.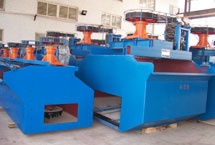 JJF

(5)Model CLF-4 Coarse particles Floatation Cells
The CLF-4 Series of coarse particles floatation machine is developed for the coarse particles tin sulphide ores under the National Key Science and Technology Brainstorming Program. Its novel construction, innovative impeller and cell structure design has overcome the difficulty of quick settling of coarse particles during the floatation process and the difficulty of attaining better performance, fill a gap in the technology for coarse particles floatation in China. Compared with the 6A model of floatation machine, under the same conditions of feed material , floatation reagents, and ore feeding of greater than 31%, the recovery rates of sulfur, lead, zinc, increase by 3.43%, 3.79%,7.54% respectively, the loss rate of tin reduces by 2.66%.The features of this model of machine are simple in construction, stable and reliable operation, ease of operation and maintenance, low wear rate, low power consumption, and equipped with special designed slurry suction tank, the floatation cells are configured on the same horizontal level, no requirement for froth pump.
(6)Model XJK Floatation Cells
The XJF series of floatation cells are suitable for separation application in nonferrous metal (copper, lead and zinc etc.,) and ferrous metals separation and can also be used for non-metal( coal ) separation. The cells are normally configured as even numbers, and installed as left or right ore feeding.