working principles
Rotary solid liquid segregation unit is a set of rotary grille chain assembled by special rabble blade, driven by the motor decelerator, the rabble blade chain make rotary movements against current flowing direction. The rabble blade chain run to the top of equipment under the guidance of sheave and bend track, making self-cleaning movement between rabble blade chains, most of solid substance fell by the gravity, other substance depend on sweeper reverse movement to clean the sundries on rabble blade chain. According the current flowing direction, the rabble blade chains is the same as grille, the grille gap installed on rabble blade chain can be chosen according to the usage condition. The rabble blade separate the solid hanging substance from liquid to ensure unblock current flowing. The whole process is continuous and also can be intervals.
This type of equipment's biggest excellence is high automatic performance, high efficiency of separation, low consumption of driving, no noise , good performance of corrosion –resistance (surface frame are carbon steel or stainless steel , all the rest are stainless steel, rabble blade is ABS engineer plastic and nylon) , ensuring continuously work under the unmanned condition.
This machine's operation intervals can be adjusted according to customers' requirement, achieving periodic operation.; also can be automatically controlled according to grille's front and back level difference, and with no manual control function in order to repair conveniently. Customers can choose at random according to different working requirement. This machine are of reasonable designed structure, during the operation, it has strong self –cleaning ability, wont happen blocking phenomenon, so the it has less daily repairing work.
Due to the mentioned excellences of rotary solid liquid segregation unit above, It is widely used: screening of sundries in municipal administration ditch, sewage disposal, preliminary screening, back scrubbing screening of raw wool and scouring, water inlet of water intaking in water works and cooling water electric power plant ,weaving , printing and dyeing, chemicals, butcher, curry, paper-making, mellow wine etc., preceding stage screening of sewage disposal in order to make pump free from blocking.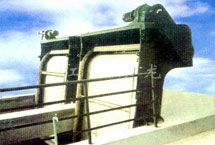 Technical parameter and model
1, equipment and rabble blade specification
Equipments can be divided into BLGF300-1500model according to the outer measurement; parallel machine is BLGF1600-3000 model. Rabble blade grille gap can be divided into eight kinds of models such as 1mm,3mm,5mm,10mm,20mm,30mm,40mm,50mm. The right model can be chosen according to the quantity of flowing water, raising height, total quantity of solid liquid separation and the figure of substance, size of pellet of solid liquid separation, at the same time the different grille gap of rabble blade can be chosen.
2,accident of equipment
Equipment's standard depth of ditch is 1535mm, customer can lengthen at random according to the actual situation.